PowerFlex 1.3 bed base
PowerFlex 1.3 bed base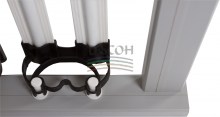 The flexible single bed base is an insert installable in the bed frame onto at least three supporting points along the longitudinal blocks.
The material for the bed base frame is laminated birch blocks of increased section (50x21 mm) interlinked by 7x50 mm Confirmat screws.
The structure comprises 36 mm wide plastic flexi slats. They have a different diameter of the central string to adjust their flexibility and provide optimum support for the body during sleep. It is a novel patented technology.
Suitable for latex or equivalent mattresses up to 150 mm thick.
Technical parameters:
Cross section of the bed frame
50 х 21mm
Number of bed slats
28 pieces
Cross section of bed slats
36 х 9 mm
36 x 10mm
Type of bed slat holder
-
Presence of regulators of rigidity
No
Supports
No
Технические характеристики
Сечение каркаса основания
50 х 21 мм
Количество ламелей
28 шт
Сечение ламелей
36 х 9 мм


36 х 10 мм

Тип латодержателя
-
Наличие регуляторов жесткости
Нет
Опоры
Нет