OOO Duson produces transformable orthopedic grids (flexible bed bases) with electronic drives with variable elevation geometry.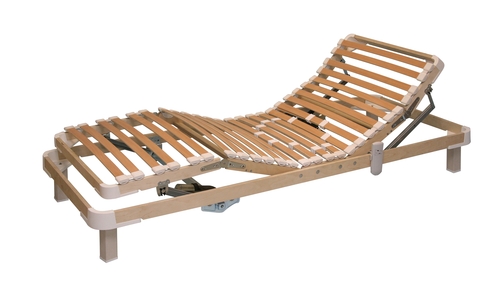 The constructions of orthopedic grids could be without holders like an insert to a bed – Relax-Electro, or like a separate framework with holders (couch)-Relax –Electro UT.
Due to construction of Relax-Electro you will have a good rest and deep sleep. On a bed with this grid one may sleep as well as read, watch TV, have meals, operate a computer, etc.
A grid consists of ply-curve lamellae, which due to their arch shape equalize the body weight, keep the spine in a correct position while sleeping, and thus prevent from musculoskeletal system disorders. These grids are very popular among persons with reduced mobility, including elderly people and children.
The grid Relax-Electro consists of 5 parts with adjustable angles of elevation in the head zone and the lower back and the leg zones. Moreover, the central zone of the grid has separate flexure stiffness regulators of ply-curve lamellae, so that anyone can individually adjust the grid. Artificial rubber slat holders make it also possible to adjust the lamellae, like turning along the rolling axis and springing and that also provides maximum comfort while sleeping.
The geometry of Relax-Electro is adjustable with a manual select keyboard that controls two electronic drives.
The electronic drives of well-known German companies and Hettich International are used in Relax-Electro.
At customer's option, a flexible bed base Relax-Electro could be equipped with Lux latex mattresses, which are specially designed for our transformable orthopedic grids. The mattresses are made of solid piece of latex-natural, high quality and environmentally-friendly material. This material is light, elastic, bouncy, extremely durable, bactericidal and self-ventilating.
Print