Our company has been actively exhibiting at international shows since 2004. Almost every year we represent our production at the international autumn exhibition Mebel' in Moscow and at the international spring exhibition UMIDS in Krasnodar.
OOO Duson systematically renews and develops its production. Taking part at exhibitions is a great opportunity to represent new types of flexible bed bases and components for bed and cushioned furniture.
International exhibition Furniture, Joint Fasteners and Soft Furnishings
During our participation at international exhibitions Mebel', our company became a prize winner of many competitions in the following categories:
- The Best Benefit-Giving Qualities Award;
- The Rational and Careful Use of Natural Resources Award;
- The Green-labelled Product Award.
OOO Duson was awarded the Silver Quality Medal Award.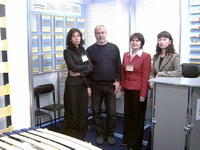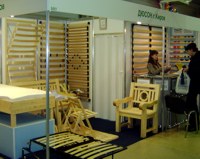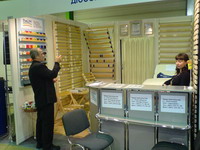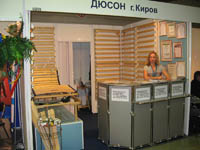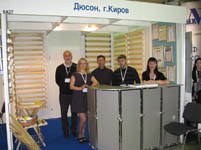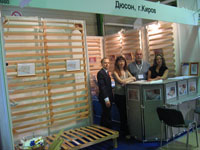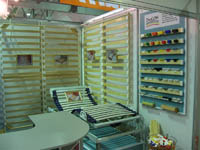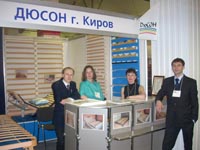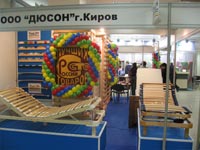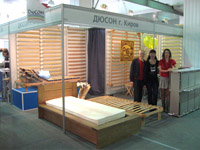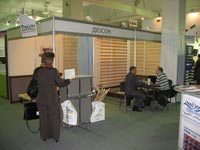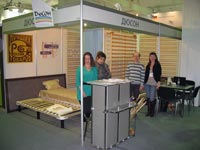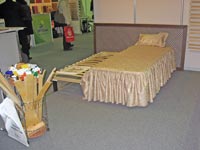 I Saloni WorldWide Moscow
i Saloni WorldWide Moscow will take place in Moscow from 15 to 18 October 2016.
In 2012, the exhibition was very successful: 557 exhibitors (494 companies from Italy and 63 from Belgium, France, Germany, the Netherlands and Spain) took part in the show and displayed their best production for home and office. Number of visitors, specialists of the furniture industry – 42 818, journalists 402, all these facts and figures prove the leading role of i Saloni WorldWide on the specialized market of exhibitions in Russia and the CIS.
Traditionally, the exposition SaloneSatellite WorldWide attracted much attention, where the projects of 31 students from leading schools of design from Russia, the CIS and the Baltic countries were displayed.
Workshops organized together with the Agency for promotion of Italian companies arouse much interest.
Their participants were three architects – Patricia Urquiola, Ferruchio Laviani and Giuseppe della Gusta discussed various moments of retail, design and architecture with a design export Olga Kosyreva.
International Exhibition for Equipment, Technologies and Products of Wood-processing and Furniture Industries – UMIDS is a main professional event on the material market of Southern Russia. The exhibition consists of three large parts: Wood-processing, Components, Furniture.
The furniture division offers furniture for final buyers.
Furniture, Fittings and Soft Furnishings – international exhibition – is the largest exhibition of the furniture industry that becomes the main event of the furniture market in Russia and Eastern Europe. The leading world brands and producers, designers and interior specialists get together in Expocenter.
The exhibition shapes actual tendencies of the furniture market and united producers and distributors of various products with customers. A wide selection of elite and budget furniture for bedrooms, dining rooms, guest rooms, children's rooms, kitchens, sofas and armchairs, furniture fittings, home decoration materials and various interior design items can be found at the exhibition.