Flexible bed base Diflex UT
Flexible bed base Diflex UT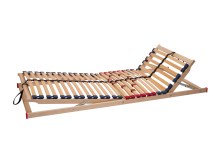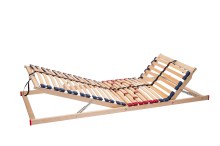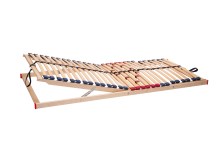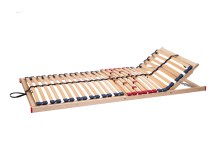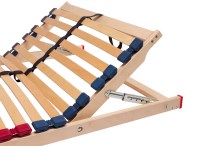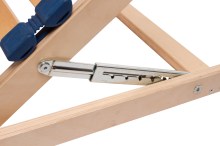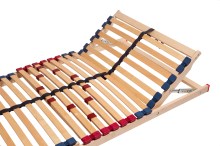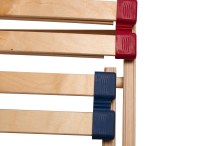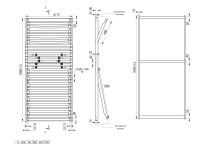 A single bed flexible base- a couch with adjustable elevation level of lower back and head zones (6 levels).
It is installed in a bed as a separate construction.
The frame is made of birch laminated beam connected with corner units UUP 05.60.24 with outer rounding radiuses- 56 mm.
The beams of leveling parts are connected with screw confirmates 7x50 mm. The construction consists of 38 mm wide lamellae, which are installed into LDT 2.38-3 with 3 positions.
The product could be equipped with stiffness regulators and additional lamellae for individual adjusting.
The base height of flexible bed base (to the upper surface of slat holder) is 245 mm. The required height is to be approved with a customer.
According to parameters and structural capabilities, the product is superior to grids of fully welded metal pipes.
It is recommended to use with latex mattresses or with mattresses of similar characteristics and thickness up to 120 mm.
Technical parameters:

| | |
| --- | --- |
| Cross section of the outer frame | 60 х 24 mm |
| Cross section of the inner frame | 50 х 21 mm |
| Number of bed slats | 26 pieces |
| Cross section of bed slats | 37 х 8 mm |
| Type of bed slat holder | 3 degree of mobility |
| Type of transformation | Mechanical |
| Presence of regulators of rigidity | Yes, 12 pieces |
| Presence of mattress holder | Yes, 1 pieces |
| Supports | Yes, 165 мм, 4 pieces |
Технические характеристики
| | |
| --- | --- |
| Сечение внешнего каркаса основания | 50 х 21 мм |
| Сечение внутреннего каркаса | 50 х 21 мм |
| Количество ламелей | 28 шт + 5 дополнительных |
| Сечение ламелей | 37 х 8 мм |
| Тип латодержателя | Три степени свободы |
| Опоры | Нет |