A good sleep for everyone or why the customers and furniture producers choose orthopedic bed bases.
One has to work hard in order to make everything in time. A good 7-8 hour sleep is a must but you only have a bowed sofa or an old-fashioned bed of the Soviet times. You just had no time to arrange your bedroom!So, what should you do then?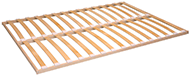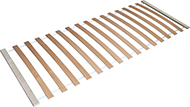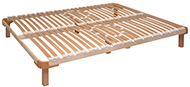 A flexible bed base (a bed base, an orthopedic grid) – is a modern and a practical decision for people of big cities and an essential part of any modern beds.
OOO Duson specializes in production of bed bases with frames made of flat laminated beams. These bases are eco-friendly, light, easy to assemble and quite useful when relocating to new places. A base prolongs the life period of a mattress as it provides the air circulation under a mattress. Duson orthopedic grids are durable and reliable; the results of tests prove their reliability.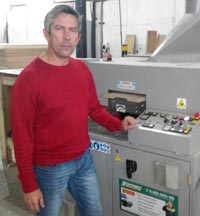 A.P. Shumilov, Technical director of OOO Duson:
Thanks to flexible elements (latoflexes), the load on the base evenly spreads along all the surface of a bed and the hammock effect doesn't appear. As the result, you have a good rest; your muscles and the spine relax.
Thus, dear customer, there are many pros for choosing an orthopedic base for sleeping and having a good rest or a bed with orthopedic base to be exact. Do not forget that a bed base is just a part of a bed a kind of fitting.
A.P. Shumilov, Technical director of OOO Duson:
A bed base for a furniture manufacturer is the same fitting as a hinge or a door closer for a kitchen producer. Consumer attributes of a bed and its durability depend much on the quality of this type of fittings.
What are the parts of orthopedic bed base?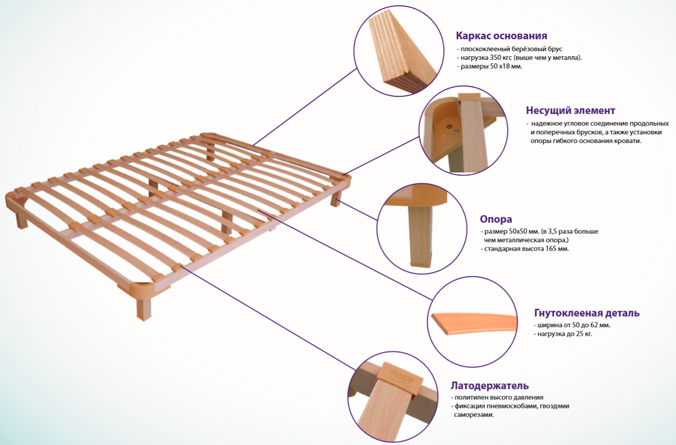 The specialists of OOO Duson admit that many furniture manufacturers don't use rough material bed bases due to high expenses on their delivery and obsolescence. At the same time, flexible bed bases of different types become more and more popular. Flexible bed bases have an undeniable advantage – a portable packing that allows a vendor or a manufacturer saving on forwarding and storing. Flexible bases meet high requirements of customers to the quality of sleep and rest.
Fittings of OOO Duson are the best choice if you are a real professional in soft furniture production and you know the value of time and money.